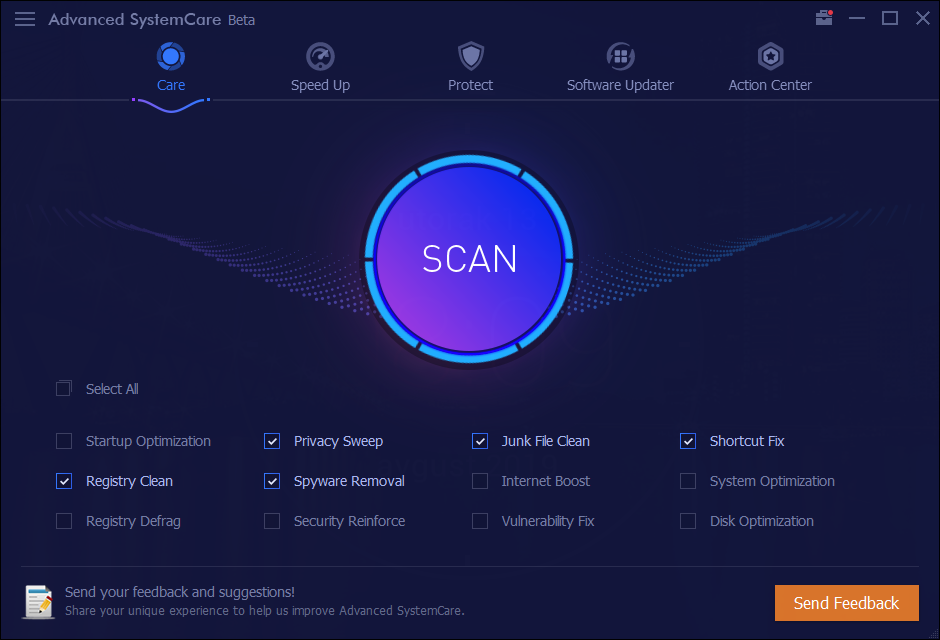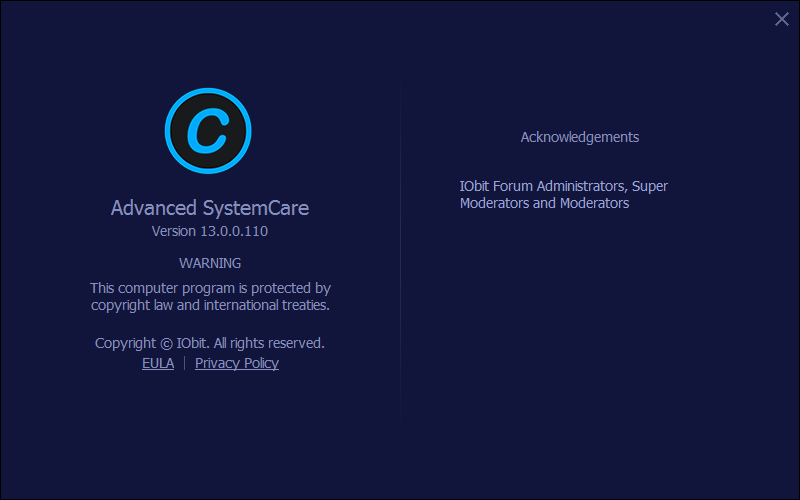 IObit Advanced SystemCare 13 Beta (v13.0.0.110)


Advanced SystemCare is an all-in-one yet easy-to-use software to clean, optimize, speed up, and protect your PC and your privacy. The powerful 1-click approach helps you easily clean up junk files, leftovers, redundant registry entries, and invalid shortcuts, sweep privacy traces, remove spyware threats, accelerate Internet speed, manage startup items, and fix system weakness & security holes.

In this new version 13, many new features are added to further protect and optimize your PC. Email Protection can detect and block malicious links and suspicious senders in web emails to shield you from spam, phishing scam, and other email-borne threats. Software Updater helps you update your programs to their latest versions at the earliest time. And Context Menu Manager enables you to manage your context menu easily and quickly.

Besides these new features, Advanced SystemCare also improves almost all modules. The greatly enhanced Junk File Clean and Privacy Sweep can clean up junk files and privacy traces more deeply and thoroughly, and now also supports cleaning data for all user accounts. The improved Performance Monitor helps you monitor your PC's RAM/CPU/Disk usage, CPU/GPU/Mainboard temperature, and fan speed in real time, and lets you quickly end the processes that take high RAM/CPU/Disk usage to speed up your PC. And the significantly improved Startup Manager and Turbo Boost can intelligently stop the unnecessary startup items, apps, and services to further accelerate your PC. Furthermore, Advanced SystemCare optimizes Privacy Shield, Browser Anti-Tracking, Surfing Protection & Ads-Removal, FaceID, Real-Time Protector, and Homepage Advisor. These optimized features can better protect your PC and privacy against secret accesses to your sensitive data, digital fingerprint being stolen, cryptocurrency mining attacks, online threats, annoying ads, unauthorized accesses, homepage & search engine modifications, and so on. Last but not least, Advanced SystemCare also rebuilds and improves over 10 useful tools, such as Win Fix, Internet Booster, Smart RAM, Large File Finder, Disk Cleaner, File Shredder, Registry Cleaner, Undelete, and DNS Protector to further clean and optimize your PC.

In summary, Advanced SystemCare helps you unlock the full potential of your PC and makes it cleaner, faster, and more secure from all aspects.

What's New in Advanced SystemCare 13:
+ New Email Protection protects your web emails against spam, phishing scam, and other email-borne threats.
+ Greatly enhanced Junk File Clean and Privacy Sweep can clean up more and deeper, and newly supports cleaning data for all user accounts.
+ Rebuilt the database of Startup Optimization and Startup Manager to greatly speed up the boot time.
+ Significantly strengthened Privacy Shield newly supports protecting user-specified sensitive data.
+ New Context Menu Manager helps you manage context menu easily and quickly.
+ Improved Registry Clean can remove more redundant registry entries for higher system performance.
+ Enhanced Turbo Boost newly supports optimizing Universal Windows Platform Apps.
+ Expanded the database of Surfing Protection & Ads Removal for a safer and ad-free online surfing experience.
+ Enlarged the database of Real-Time Protector for a more secure PC.
+ Revised UI for a more intuitive and fluent experience.

Operating System:



Install Notes:
- Install application
- Done, Enjoy.

#katkat -> To avoid fakes, ALWAYS check that the torrent was added on ExtraTorrent.ag by katkat
https://extratorrent.ag/